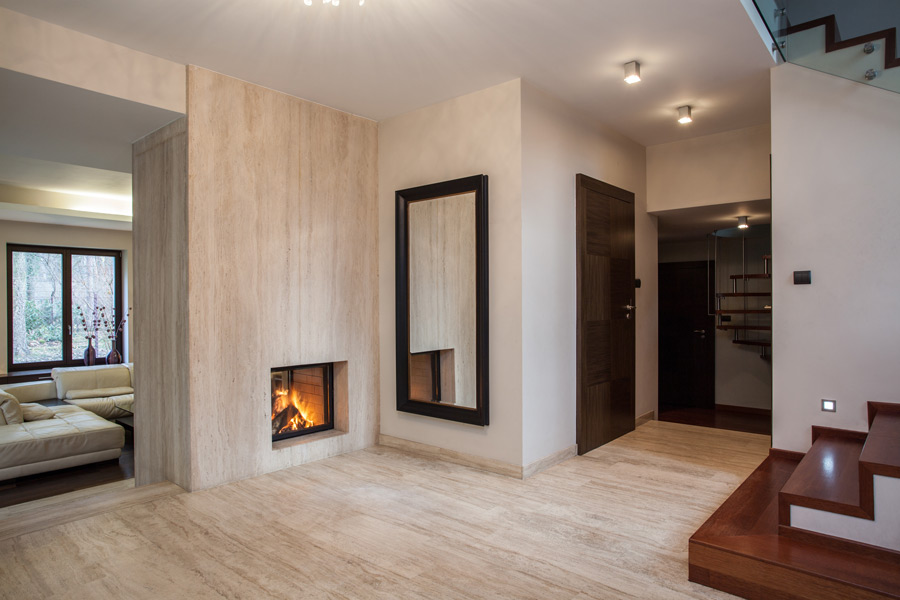 Travertine is a unique form of limestone that develops stunning swirl patterns because it is formed near mineral spring deposits. These beautiful patterns within the stone give it a similar look to marble but it can be found at half the price which makes it a desirable natural stone option. It comes in a warm color palette ranging from silver-grey to rusty red. Many like to use it as flooring or for a backsplash, but there are many ways it can be used in the home.
Finish Options
This natural stone is often sold as tiles and can be found in four textures, brushed, honed, polished, and tumbled.
Brushed: Matte finish
Honed: Halfway between matte and glossy. Subtly polished.
Polished: Glossy finish
Tumbled: Made to look rough and aged.
Pros and Cons
Travertine is loved for its classic stunning beauty. Though it is a softer stone it is durable when maintained properly and works well as flooring even in high traffic areas. Installing natural stone increases your home value but can be costly. However, Travertine is often less expensive than other natural stone options.
As with many stone floorings, Travertine stays cool which is great for areas that have a hot climate, but it can be a bit chilly in areas with harsh winters. For those looking for soft warm flooring, stone may not be ideal. But for durability and a stunning design statement, it can be just right. This stone does need to be sealed to keep it in good condition though. It is sealed upon installation but then must be sealed again every 3-5 years.
Cleaning
As with many stone floors, travertine is porous and thus susceptible to moisture. Moisture and dust particles can damage the flooring over time which can result in changes in color, cracking, or nicks. This is why keeping a quality seal on it is so important. As for regular maintenance, be sure to avoid abrasive or colorful cleaning solutions. A damp mop or rag with a mild cleaner that is recommended by the manufacturer will do the trick.
By Stone Restoration Works 6-1-2021